Capital House Music Festival
New Date, New Location, Same great vibes
As we continue to honor Sam, please return to be informed of Upcoming Events including BADASSS Cinema, Underground Soul Solution, and The Salute To Sam! We are planning for an awesome Sam Burns Week 2024.
Underground Soul Solution
Shout out to Cheryl "Cee-Cee" Hardy (Festival Director) and DJ Divine (Soulstew Entertainment)!
DJ Divine will do a tribute set honoring Sam "The Man" Burns and his much-celebrated event Underground Soul Solution (USS) right where it all began - in Adams Morgan! Sam's brainchild, Underground Soul Solution (USS) began in March 1991 at a venue called The Opera, (1777 Columbia Rd, NW). He 'invited and challenged people from all walks of life' to come together and dance their troubles away to soulful dance/house music.

Sam held his 'USS' in multiple venues, however, It really 'set ablaze' at State of The Union (U St.) in the mid to late '90s. He later moved the event to the Dupont Circle Area. Underground Soul Solution became a regular Sunday event; people from near and far would travel to attend - many called it Church. His last "service" was at Eighteenth Street Lounge on March 1, 2020; nearly 30 years later, from when it began.

Over his 40+ career, Sam held musical residencies throughout the city, including Kilimanjaro Nightclub which was also in Adams Morgan. As an advocate for DC History, Culture, and Community, Sam was no stranger to this festival.

He has been a featured DJ for many Adams Morgan Days.

Let's Dance in the streets (and the parks) of Adams Morgan in Sam's honor.
Kalorama Park
3pm - 4pm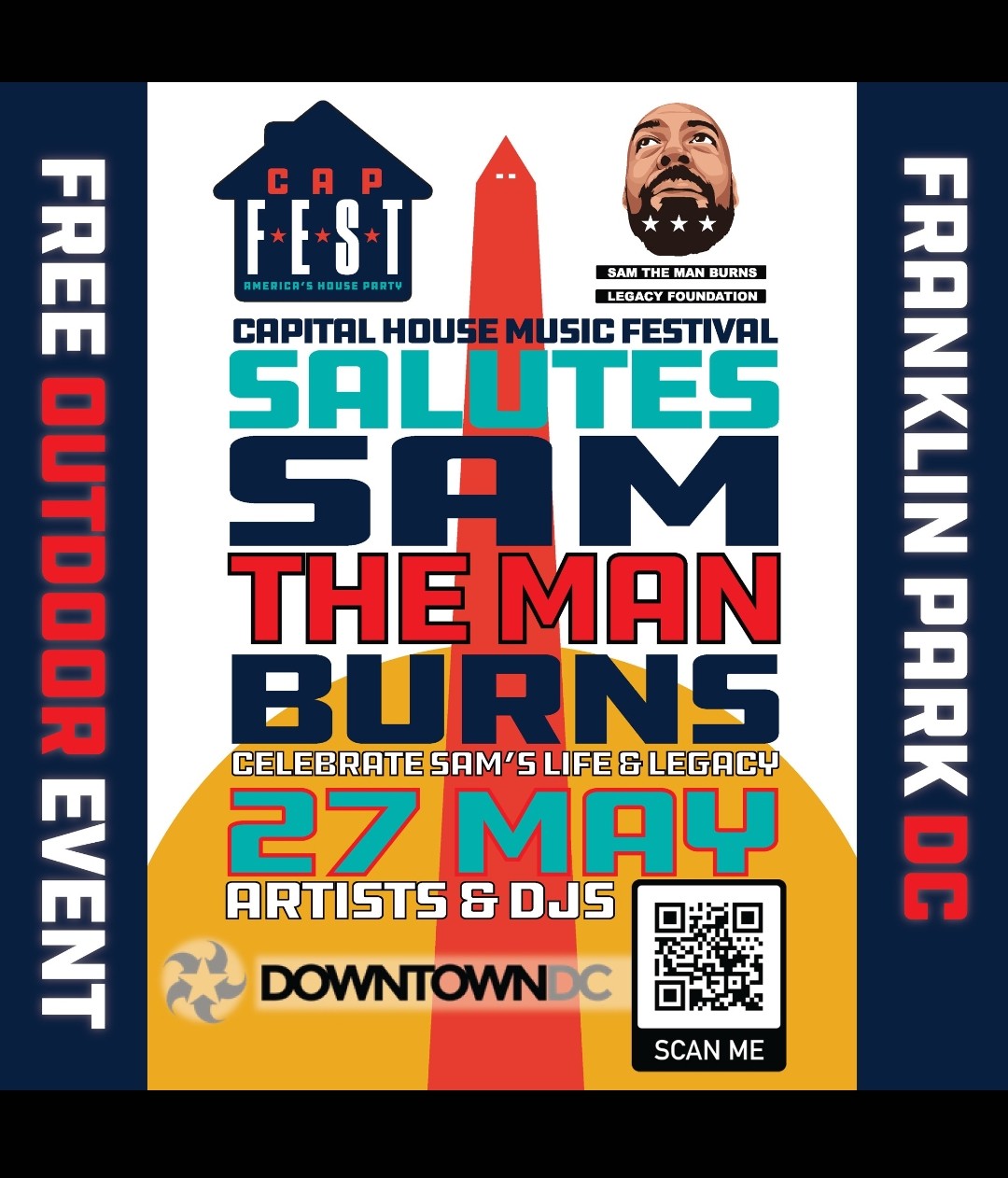 Books & Tattoos...and a Tribute...to Sam " The Man" Burns.
We are glad to be in partnership with Kymone Tecumseh Freeman and Ipukekawaii for this 1st Installment of Books & Tattoo series; in support of the forthcoming Black Tattoo Anthology book & documentary by tattoo impresario Little INKPLAY Shop.

*Live Tattoo sessions
*Live Interviews
*Music
*Tribute to Sam "The Man" Burns
*Free with Tattoo ($10 without)

Come out tonight to see what it is all about! 9pm - midnight.
MAY 31st is Sam's Birthday!!!!
We are closing out Sam Burns week with an Eaton Radio Livestream Marathon. Let's have a party! Help us celebrate by joining the livestream. https://www.mixcloud.com/live/eatonradio/
Do you miss Sam behind the decks? If you want to imagine Sam spinning right now, here is where you could go. Let's come together and experience some of his mixes he left with us.
Tune in to wpfwfm.org or
89.3 FM (in the Washington DC region) during the following shows/times:
However you can display the following so that is pleasing to eye..

*Mojugba Radio
Thurs. 05/25 2am - 5am EST Hosted by Aphrosoul Lukumi

*Meeting In The Ladies Room
Fri. 05/26 10pm - 12am EST
Hosted by DJ Rita Burns

*House After Dark
Mon/Tue 05/29 12am-2am EST
Hosted by DJPaulHoward

*Music Relief Radio
Tue 05/30 10pm - 12am
Hosted by Rahsaan Jackson
Sam Burns, along with Yolanda Pauling and her team, was a co-founder and silent partner of the Dance & Music Festival (DMF). Sam had a great passion; he wanted to ensure DMF provided a platform to showcase and exhibit the talent of young people while preserving the house music culture!
Sam Burns always supported DC Black Pride and Women's events. He was often a featured DJ. Come to enjoy an unforgettable evening led by 6 women event promoters featuring 3 women DJs. A portion of the ticket proceeds will be donated to Sam "The Man" Burns Legacy Foundation.
2nd Annual SAMPOSIUM - a music culture panel discussion - past, present, and future - celebrating the life and the musical impact of Sam "The Man" Burns! This year's Symposium is organized, planned, and moderated by Ronya-Lee of Ronya-Lee and The Light Factory and DjPaulHoward with featured guests, Abigail Adams, DJ Divine, Jamal Harris, and Kristi la rAt.
Sam held events featuring movies and music and later a private Facebook group called BADASSS CINEMA! In his words, it was for those who had 'a love for fun, trashy, action packed, grindhouse, exploitive movies.' Sam especially was well versed in Black Film / Blaxplotation Movies. Join us for Friday night movies, music, and dancing. Enjoy a BADASSS CINEMA tribute - a Blaxploitation movie montage and DJ set by D.Painter!
3rd Annual Salute to Sam "The Man" Burns presented by Cap House Fest!
Our first annual Sam "The Man" Burns Week is in the history books.
The week left us with full hearts. We thank all partners, supporters and participants.
We could not have done this without you.
CANDLE LIGHT REMEMBRANCE FOR SAM "THE MAN" BURNS
Directions once on the grounds of Glenwood Cemetery:

-Slight right on to Central Ave.

-Pass The Chapel (on the left).

-Follow Central Ave until you are at the 'Section M' sign on the right.

-'Section G' is on the left (sign is not visible).

Walk towards the tree